Study : Faculty of Economics
Faculty of Economics
The faculty has five courses to match the needs of individual students.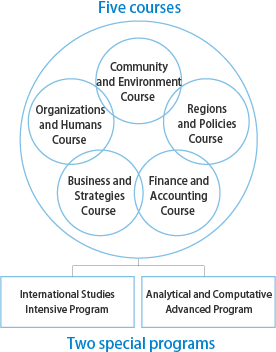 It used to be common that in the Faculty of Economics, students would major in Economics and Business Administration as two separate disciplines. However, in today's environment, one needs to apply an integrated knowledge of economics and management when analyzing real-world phenomena such as stock markets. In view of this, the Faculty of Economics at Seikei University reorganized itself in 2004, by merging the Department of Economics and the Department of Business into a single Department of Economics and Management, so that students may study both disciplines. The curriculum is structured entirely from a learners' perspective; students choose their specialization from five interdisciplinary courses based on what they want to learn and what kind of professionals they want to become.
The principle of the Faculty is to provide a flexible learning environment in which students can actively pursue courses that best fit their needs and goals. One of the important educational goals of the Faculty of Economics is also to provide a strong liberal arts base to nurture maturity, flexibility and balance in our students. Another goal is to train the students to be "independent-minded professionals" who can identify problems on their own, search for the right solutions, express their ideas and put them into action.
In order to meet the diverse academic needs of our students, the Faculty of Economics along with the flexible learning environment, includes academic advising and two special programs for selected students. The curriculum is intended to nurture the "cultivation of character," "self-formation" and "development of vocational skills," three elements that are in line with the founding philosophy of Seikei University---"character education respecting individuality."
Courses
*Japanese only
Special programs
*Japanese only