About Seikei : Access and Campus Map
Location and Access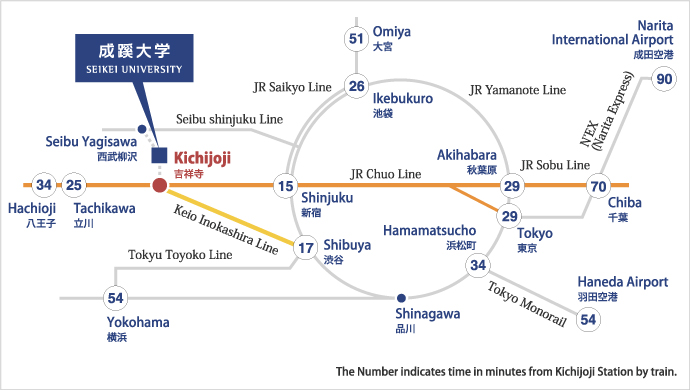 Get off at Kichijoji Station on JR Chuo Line, Sobu Line (Tokyo Metro Tozai Line through service) or Keio Inokashira Line.
Take KANTO Bus from the North Exit bus depot (No.1 or No.2) at Kichijoji Station.
After approx. 5 mins., get off at Seikeigakuen-mae bus stop.
Approx.15 mins. on foot from Kichijoji Station.
Get off at Seibu Yagisawa Station on Seibu Shinjuku Line.
Take KANTO Bus headed for Kichijoji Station from the North Exit.
After approx. 20 mins., get off at Seikei Gakuen-mae bus stop.
Campus Map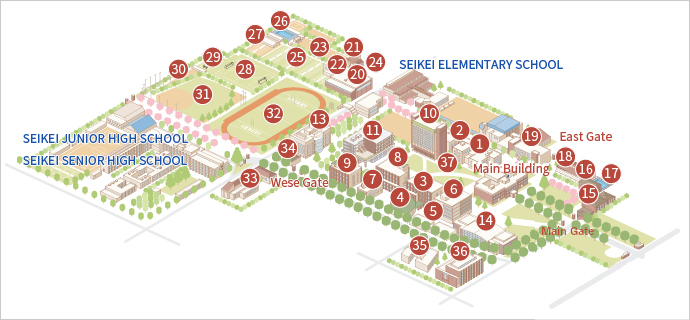 1. University Building No.1
2. University Building No.2
3. University Building No.3
4. University Building No.4
5. University Building No.5
6. University Building No.6
7. University Building No.7
8. University Building No.8
9. University Building No.9
10. University Building No.10
11. University Building No.11
12. University Building No.12
13. University Building No.14
14. University Library
15. Seikei Gakuen Archives
16. South Gymnasium
17. South Swimming Pool
18. 'Truscon Garden' Cafeteria
19. Students' Hall
20. University Gymnasium
21. 'Komichi' House
22. Small Gymnasium
23. Horse-riding Ground
24. Japanese Archery Field
25. Tennis Courts
26. North Swimming Pool
27. Table Tennis Hall
28. Soccer Field
29. Handball Court
30. Archery Field
31. Baseball Field
32. 'Keyaki' Playground
33. West Clubhouses
34. Health Center
35. Seikei University International House
36. University West Building No.1
37. 'Atorio' Courtyard