Faculty of Law
The Faculty of Law allows for comprehensive study of law and politics, which are the basis of an orderly society.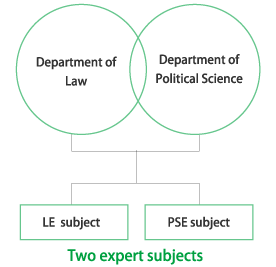 Laws exist to allow individuals or groups of people possessing different values to co-exist peacefully, and laws are created through politics. Laws and politics not only maintain order for human groups such as countries, local governments or international relations, but are intimately linked with individuals and their lives. In the Faculty of Law, many political science subjects that can be taken in the Department of Law and law subjects that can be taken in the Department of Political Science are offered, in order for students to study law and politics while making the connection between them. Students will acquire the basics of social science and a broad range of general knowledge in their first and second year, and will develop expertise from the third year onward.
Development of leadership abilities to lead society
The Faculty of Law is not only for those who aspire to become lawyers or politicians. The ultimate goal of learning law and political science is to acquire the ability to present logical and rational solutions when facing complex problems in society, while respecting the positions of those involved, and also to polish the articulacy and logical skills required to do so and to develop overall intelligence that enables a person to exert leadership under various conditions. The Faculty of Law develops human resources who can take an active role in all areas of society, including public offices or companies.
Departments
Special programs
*Japanese only