Study : Faculty of Science and Technology
Faculty of Science and Technology
What are the technologies that are needed right now? All ideas start from the needs of society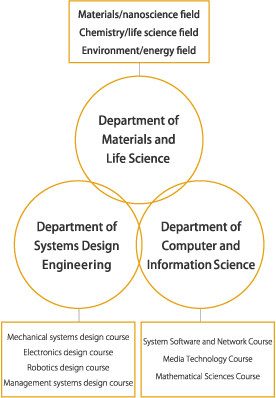 Since the beginning of the 21st Century, the problems we face have become more complex and diverse than ever before. There are many subjects that humankind has never experienced before, and the environment surrounding technology has drastically changed. The Faculty of Science and Technology has boldly introduced the perspective of societal demands on the University. The Faculty of Science and Technology constitutes three departments: Materials and Life Science, Computer and Information Science and Systems Design Engineering*, based on the new policy of being "mission-oriented". The Faculty provides education that can meet both the needs of the students and the demands of society, and nurtures human resources who can contribute technology to new developments of an intellectual society.
Motivating curriculums that help the students to steadily acquire basic academic skills in science-based subjects
In the curriculums of the Faculty of Science and Technology, science-based subjects, which are the basis of technology, are reinforced, in order for students to acquire solid basic academic skills that can be applied under any situation. In addition, there are many subjects available in which the students can learn through experience, by means such as experiments or laboratories.
Moreover, in addition to the career education subjects in which students can do their internship, the Seikei Education Curriculum, which allows students to freely choose subjects in humanities, social science and natural science, are provided, enabling students to choose subjects according to their interests or career path. The Faculty aims to cultivate students practical abilities with which they can contribute to the development of an intellectual society, by respecting their motivation at utmost.
Departments