Institutes & Facilities : Seikei Institute for International Studies (SIIS)
Seikei Institute for International Studies (SIIS)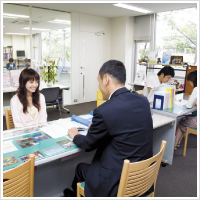 The Seikei Institute for International Studies (SIIS) aims to develop an international mindset in all students in all the Faculties. In order to achieve this aim, SIIS cultivates in students the knowledge and insight required in a global society and develops communication skills through presentations in English or exchanges with foreign students. Additionally, SIIS strives to enhance support to students through providing study-abroad programs or overseas visit programs according to the students' purposes, as well as through holding lectures on international exchange.
Efforts of SIIS
Japanese education for foreign students
SIIS provides several Japanese language and Japanese culture subjects for foreign students enrolled in Seikei University. Foreign students from various countries are divided into small classes by their proficiency level, and learn reading, grammar, conversation, report preparation, etc., in a balanced way. In addition, Japanese culture subjects help foreign students to understand various aspects of modern Japanese society, including its circumstances and various problems. Foreign students can associate with Japanese students and learn through a system in which classroom learning and practice are integrated.
Subject provided by SIIS: "Cross-cultural communications: overcoming cultural barriers"
In this subject, students will discuss the causes for stress or uncomfortable feelings that occur during the process of cross-cultural communication or how to deal with such stress or feelings in order to build a better relationship with the communication partner. In the classes for this subject, Japanese students and foreign students exchange opinions or share experiences through group discussions or group projects, which provide opportunities for the students to understand each other as they overcome cultural barriers.
The "Seikei Liberal Arts Curriculum" aiming at the acquisition of solid English skills
In the "Seikei Liberal Arts Curriculum", which is Seikei University's unique education curriculum targeting all students, English is a mandatory subject for all Faculties. In addition, the curriculum focuses particularly on cross-cultural understanding, providing subjects on cross-cultural understanding or international studies.
Global overseas study network
SIIS offers three types of study abroad systems, including the "Student Exchange Program" in which students can study at any of the 28 universities in 12 countries having a partnership with Seikei University, the "Overseas Visit Program" in over 80 universities through the Japan Study Abroad Foundation (JSAF), and the "Year Abroad Program" in which students can choose destinations on their own. Programs that enable students to experience cultures of various countries including those in Europe and America, Asia and Oceania according to their goals or interests, rather than simply aiming to improve their language skills. Moreover, SIIS has introduced a tuition reduction system together with various scholarship programs ahead of any other universities, in order to financially support students who wish to study abroad.
English education focusing on the development of communication skills
SIIS provides English education focusing particularly on the development of communication skills that enable students to understand their conversation partners and to convey their thoughts to them. It promotes the "English Chat Time" in which students converse with foreign exchange students in English under themes such as Japanese pop culture or travel experiences or the "Extensive Reading Program" in which students read as many English books as possible, progressively increasing the difficulty level starting from picture books written in easy English. It offers various opportunities to practice English, so that students can acquire natural colloquial expressions and grammar according to their level.
Development of internationally-minded human resources across all faculties of Seikei University
The "Comprehensive International Studies Lecture" is held for students in all faculties. In this lecture, students learn about international relations and cultures, acquiring knowledge or multifaceted perspectives required in an international society. International exchanges within the university are also very active; the bus tour, in which foreign students and Japanese students visit sightseeing spots in Tokyo or nearby areas together, is one example. Such exchanges provide opportunities to develop broad interpersonal relationships through working alongside each other and inspiring each other with different cultures or values. In the International House adjacent to the campus, events are held to promote friendship among foreign students, foreign teachers and Japanese students, in an effort to enhance international exchanges.